About the Artists
Internationally renowned artist Darryl Robertson and his artist partner Lesley Jacka Robertson are the resident artists at Bronte Gallery.
Darryl Robertson

Internationally renowned artist Darryl Robertson.
Darryl's Painting, Sculpture and Ceramics has been exhibited nationally and internationally. His artwork has been collected by families, art collectors, art galleries and art museums around the world and has made its way into the hearts and lives of many people.
Born in Reefton on the West Coast of the South Island. He lived in the small rural settlement of 30 people at Mawheraiti 20 Km away. At the age of four his family moved to Nelson.
Darryl found fascination in the many stained glass windows, sculptures and architecture of the local St Mary's Church, early paintings and sculpture in the local Suter Art Gallery. He visited both places as a child many times. The young Darryl was always amazed and excited looking at the art. His mind would travel to another place, be their, feeling it.
At the time he did not understand what evoked the exciting powerful emotions, but later as a working artist he completely understood why he felt that way about these artworks Now he can see how his own artworks effects people of all ages. " It's very rewarding "
What started as making pottery later evolved into a more expressive painted ceramic art.This then made way for painting on canvas and sculpture. A natural progression for him.
Good fortune enabled him to train in high quality Studios in New Zealand, Australia and England and travelled through many countries seeking art, artists and artistic expressions of many kinds. These life-expanding experiences helped him re-evaluate the way he would aim to create art from that point on.
Darryl creates both painting and sculpture alternating between both now for many years.
''To change mediums is always refreshing, cleansing, exciting and creatively motivating.It keeps me interested and excited to create.''

Darryl's and his artist partner Lesley Jacka Robertson collaborate and share Bronte Art Gallery and studios on this stunning Bronte Peninsula.
Use this ARTWORKS LINK to view Darryl's artworks.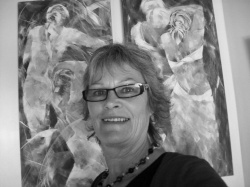 Lesley Jacka Robertson

Lesley was born in the North Island city of New Plymouth before moving to Nelson. She can vividly remember as a child of six years old, her fascination with collecting bottles of colored waters from papers and plants or anything that lost its dyes.

An interest in the arts was set in motion later with training in the processes of pottery at Waimea Craft Pottery, a well renowned and regarded Richmond pottery run by Jack and Peggy Laird.
After extensive overseas travel and the forming their first business in Queensland Australia,Lesley and her artist partner Darryl Robertson returned to Nelson to set up their own Gallery and artist studios in the 1980s which continues to this day.
Now known as Bronte Art Gallery,it has transformed into predominately Painting and Sculpture, attracting National and International recognition, awards and honors.

Lesley's early paintings evolved from painting on clay, porcelain jewellery to paper , were usually very vibrant, watercolors.( A possible throw back to childhood days).
Now solely painting on canvas she describes her works and subjects as sometimes cryptic, Poised between elusive and symbolic,her love of form and movement, present in her most recent subtle, figurative paintings in a neutral palette, they are reflective and a little surreal.

''I try to capture mood and atmosphere through a process of layering.I become completely absorbed in the depths of color and abstract forms.My figures are often youthful with a quiet quality and I enjoy bringing form to life from a raw canvas and paint and then watching the viewer connect''.

"We live in a very special location here on the stunning Bronte Peninsula, overlooking the Waimea Inlet, the largest inlet in the south Island. It is an ever changing, inspiring place to live and work as an artist".

Lesley's paintings are shown in exhibitions, galleries or through her studio
and gallery, Bronte Gallery on the Bronte Peninsular near Mapua / Nelson and have been purchased for private collections around the world




Use this ARTWORKS LINK to view Lesley's Artworks.